Wednesday, 25 February 2009
Avnet to host UK XPages worshop 16th & 17th April
My friend and colleague, Tim Clark, has mentioned that Avnet are running an XPages workshop on April 16/17 for IBM Business Partners.
Remember that XPages is pertinent in the Notes/Domino web application world and, as announced at Lotusphere, will also be relevant to Quickr in the future.
Having seen one of my team, Chris M, demo XPages at the TechJam in Warwick yesterday, I can definitely recommend taking a look....
If interested, please check Tim's blog
here
.
Tuesday, 24 February 2009
Webinar: EditLive! - the New Rich Text Editor in IBM Lotus WCM
Those nice people at Ephox are running a session on EditLive! tomorrow - Wednesday 25 February at 1500 UK.
For further information, and registration details, please visit
here
.
Sunday, 22 February 2009
Lotus TechJam III - Less Than 48 Hours Away
Well, it's been a busy busy time for the team, as we prepare to host a series of Lotus TechJam events at various locations within the UK.
If you're interested in attending: -
IBM Warwick - 24th February
IBM Edinburgh - 26th February
IBM Hursley - 3rd March
please check out the
invitation
and
agenda
, and then let me
know
.
Otherwise, please keep your eye on this page, and elsewhere, to find details of the Q2 events as they are planned.
In addition, you may also be interested in the upcoming Lotusphere Comes To You (LCTY) events: -
Manchester - 28th April
London - 30th April
and can find out more
here
.
Regardless of where, the team look forward to seeing you ...
Monday, 16 February 2009
Apple broke my internet ...
Wednesday, 11 February 2009
Lotus TechJam - Agenda etc.
Solved - Compacting Lotus Notes databases on Ubuntu Linux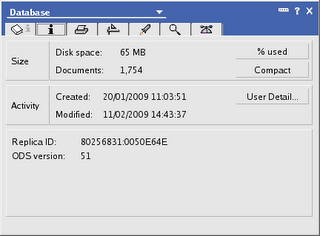 In order to further diagnose a problem, I needed to upgrade my Lotus Notes mail file to the most recent ODS ( On-Disk Structure ), which is now
51
with the latest Notes/Domino 8.5 products.
Given that I'm using an Ubuntu Linux desktop ( alongside my Macbook Pro ), I needed to be able to run the necessary
compact
command from a command line ( shell ).
Before I started, I shut down Notes to avoid any conflicts.
Given that I wanted to update to ODS 51, I added the line: -
Create_R85_Databases=1
to my notes.ini file ( /home/hayd/lotus/notes/data/notes.ini ).
Then. following
this
post, I opened a command prompt ( using the
xterm
command to open a bash shell ), and changed to the Lotus Notes program directory (
/opt/ibm/lotus/notes
).
From there, I ran the command
./compact -C /home/hayd/lotus/notes/data/mail09/DAVEHAY.NSF
. Sadly, this failed with the message: -
11/02/2009 14:26:10 Database compactor error: Wrong Password. (Passwords are case sensitive - be sure to use correct upper and lower case.)
This indicated that I needed to have previously entered the Notes password before I tried to access the mail file, which seems like a pretty good idea.
Therefore, I restarted Notes and entered my password - this automatically opened a tab to my mail file, which I ignored - Doh !
I repeated the command again, which again failed with the message: -
11/02/2009 14:37:48 Informational, database design compression is enabled in database /lotus/notes/data/mail09/DAVEHAY.NSF.
11/02/2009 14:37:48 Informational, LZ1 is enabled in database /lotus/notes/data/mail09/DAVEHAY.NSF.
11/02/2009 14:37:48 Compacting /lotus/notes/data/mail09/DAVEHAY.NSF (Dave Hay)
11/02/2009 14:37:48 Error compacting /lotus/notes/data/mail09/DAVEHAY.NSF: Database is currently in use by you or another user
11/02/2009 14:37:48 Database compactor process shutdown
The third time around, I closed down all the tabs in the Notes client, and tried again; this time, it succeeded with: -
11/02/2009 14:41:16 Informational, database design compression is enabled in database /lotus/notes/data/mail09/.NSF.
11/02/2009 14:41:16 Informational, LZ1 is enabled in database /lotus/notes/data/mail09/.NSF.
11/02/2009 14:41:16 Compacting /lotus/notes/data/mail09/.NSF (Dave Hay)
11/02/2009 14:41:26 Compacted /lotus/notes/data/mail09/.NSF, 0K bytes recovered (0%)
11/02/2009 14:41:28 Database compactor process shutdown
It's worth noting that the -C switch on the compact command means "Copy-style compaction"
If it helps, the ODS version of a database can be seen on the DB properties (
File
->
Application
->
Properties
) as per the screenshot.
Saturday, 7 February 2009
From one *nix to another
Well, today I took the plunge after months of deliberation, internal justification ( needs vs. wants ), Apple site teasing ( don't ask ) and scrimping.
I visited the most-excellent Apple Store and picked up a lovely new Macbook Pro 15". The spec. is identical to that recently acquired by my frolleague,
Scoot
, and I'm already completely hooked.
This is my first ever Mac, and ( like most others ) I can't ever see me going back to a PC.
The MBP will become a home/play machine ( OK, I *might* do some work-stuff on it ) alongside my "real" work machine, currently a Thinkpad T60p running Ubuntu 8.10.
I will continue to explore, experiment and blog on my experiences and travails with Ubuntu, as I'm still convinced that there is a really positive future for desktop Linux ( as well as desktop Unix ).
For me, as a geek, it's just nice to have choices - with Linux, it's a real feast of choices ( kinda like an all-you-can-eat buffet in The Mall Of America ) whereas OSX is more just ready-to-go.
I haven't yet installed iLife 09 etc. but have played with the installed applications - so far, I can't find anything that (a) doesn't work or (b) that I don't like.
I will install Notes 8.5 tomorrow, along with iLife 09, and will continue to play/post.
Printing to my Samba printer ( actually an HP PSC 500 that's 10+ years old ) worked without problems, and I used Skype for a tele/videoconference with a friend in New Zealand, again with no issues whatsoever.
All in all, 10/10 for Apple, and for their staff,  both in the store and on the phone
Friday, 6 February 2009
"With Lotus, We Work Smarter, Together" Saw it at Lotusphere, See it here
This was one of the highlights of the Lotusphere 2009 conference in Orlando - a Lotus marketing video that was (a) yellow and (b) light on the tech.

Much as I *LOVE* being a techie / geek / nerd, I do have to sometimes remind myself that not everyone is like me ( Praise Be ), and that some people: -

(a) have a work/life balance that is more akin to 50:50 than 80:20
(b) aren't as into tech as I am

Most of the time, I'm working with very smart, very tech-savvy customers, who get the stuff that we sell - the bits, the bytes, the flops, the gigaquads ( OK, I stole that one from Star Trek ). However, it's easy to become arrogant and assume that everyone gets it, and that everyone has the IT budget of a multi-national company with more cash than some most countries.

Therefore, it's great to see that IBM Lotus marketing have come up with this little gem - it's 2m43s long, and is worth a watch. The people speaking are real people - even better than that, they're real Lotus customers.



Check it out, take a look, post a comment, recommend it to a friend or colleague IF you like it.

Ghosts in the Machine
Despite being an avowed Linux user, I do have occasional need to boot back to Windows for certain things, including iTunes and BlackBerry Desktop Manager.
Every two or three months, I rebuild my Windows XP environment and, for many years, have used Norton/Symantec Ghost 2003. I created a DVD containing a "clean" image of Windows XP SP3, with the most recent set of Windows fixes, AV updates, Firefox/Thunderbird versions etc.
Problem No. 1
For some reason, neither one of my 2008 Ghost DVDs would boot ( they were fairly well scratched ) so, after a bit of faffing around, I bit the bullet and performed a brand new installation of XP. This took a while, especially as I needed to download drivers for the Thinkpad T60p etc.
However, after a day or so, I had a nice clean machine, ready to re-image using Ghost.
Now I've been using Ghost 2003 since .... 2003, and am very happy with it - it just works; I can Ghost to a DVD or an external USB drive, and it takes a matter of minutes to backup and restore.
Given that I had some spare USB drive capacity, I decided to use that (a) for a quick backup and (b) for a slightly less error-prone restore.
Problem No. 2
No matter what I did, I was unable to get Ghost to write to any one of my three USB drives. In one case, I got a General Protection Fault in Ghost ( wow, back to the '80s ), in two other cases, Ghost just failed to find the drives, despite me selecting USB 2.0.
As with most situations, I decided to go Google, and found this document: -
Updates to Norton Ghost 2003
http://service1.symantec.com/SUPPORT/ghost.nsf/docid/2002102509582825?Open&docid=2000101617144125&nsf=on-technology.nsf&view=docid
which includes a bunch of updates, including some USB fixes.
It's my assumption that Microsoft and/or Lenovo have updated their USB 2.0 drivers and support since 2003, meaning that Ghost could no longer cope.
The aforementioned Symantec document was very helpful, and pointed me to a set of archived updates for their products: -
How to obtain the programs updates that are archived on Symantec LiveUpdate server
http://service1.symantec.com/Support/sharedtech.nsf/docid/2007010219171513
In conclusion, I have a clean machine, a nice backup ( and I did backup the backup before you ask ) and have learnt yet another lesson in the wonderful world of IT.
Time for a coffee ...
Error "Database specified does not exist or cannot be accessed" received when attempting to synchronise Notes and BlackBerry
Using the most recent BlackBerry Desktop Manager v4.7.0.32, I was receiving: -
Database specified does not exist or cannot be accessed
when I tried to synchronise my BlackBerry 7130v with Lotus Notes 8.5.
This error was occuring regardless of whether I tried to synchronise address book, contacts or to-do lists.
As always, Google had the answer ( and Google is my friend ) - my Notes location document had my mailfile name/location incorrectly specified: -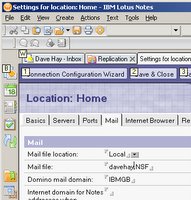 Once I changed the document, synchronisation just simply worked ... and it seems much smoother than earlier versions. In theory, I can use Bluetooth ... w00t
Wednesday, 4 February 2009
Lotus Partners - Eventing Away
Just wanted to mention that
Infosys
are holding one of their regular Open Day sessions in Swindon on Friday 6 March. I'll be there, as will many of the Lotus community.
In addition, our friends at
LAN 2 LAN
are planning a pair of technical forum events shortly afterwards: -
Tuesday 24 March @ IBM Warwick
Thursday 2 April @ IBM South Bank
Again, hope to see you there ...
WCM Jumpstart - Updated for 6.1
Following an earlier blog post
here
discussing how the WCM Jumpstart sites can be deployed, Erik reminded me that I never found a 6.1 equivalent.
Well, I checked again - and my colleague, TheresaS, kindly directed me to the command: -
ConfigEngine.bat configure-express
command, which allows one to deploy the sample WCM content and templates on a non-Express environment.
This is documented here in the Information Center here ->
Installing WebSphere Portal on Windows
Caveat - I haven't tried this ! Remember, your mileage may vary ....
Monday, 2 February 2009
And three hours later, even more snow ...
See, the English CAN do snow, once in a while ...
Sunday, 1 February 2009
Suzanne Minassian, Lotus Connections Product Manager, shows off ... Lotus Connections
So who thought
YouTube
was merely for watching dancing squirrels, singing geeks and ninja kids ?
Well, think again -
here's
a most excellent mere 9 minutes of Lotus Connections fun, courtesy of the product manager,
Suzanne Minassian
, who I was lucky enough to meet at Lotusphere 2009 - she's very smart, very keen and very very helpful.
If you want to see more, come and "meet" her and her team at the
Synch.rono.us
blog.
Subscribe to Posts [Atom]