Wednesday, 5 August 2009
WebSphere Portal 6.1 and Firefox 3.5 together ...
I saw this most interesting warning / error message whilst onsite today: -
( This is not a supported browser for client-side aggregation - Please use a supported browser to view this page in client-side aggregation. )
when accessing WebSphere Portal 6.1.0.2 from Firefox 3.5
Thanks to some timely assistance from Brian and John from one of our IBM Business Partners, it transpired that this is easily resolved by editing the Supported Client list, as follows: -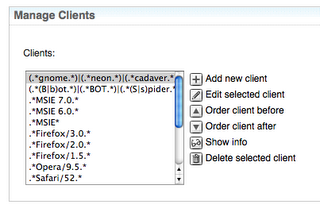 Log in to the portal as an administrator e.g. wpsadmin
Navigate to the Administration page
Navigate to Portal Settings
Navigate to Supported Clients
At this point you have a choice ( oooo, I love choices ); you can either modify the existing settings for Firefox 3.0 by clicking
Edit selected client
and changing the User Agent field from from: -
to: -

or add a new client.
The latter approach involves adding various details about the Firefox 3.5 browser, so I took the easy route (!) and merely changed Firefox 3.0.* to Firefox 3.*
Lo and behold, no more warnings :-)
Comments:
Ohh, that is a nasty, nasty hack.
My question to IBM labs would be why they are not using feature detection in their JS so that if a particular browser supports a particular JS feature then it can use it, if not then degrade gracefully.
Checking for browser version is very, very bad.
Post a Comment
<< Home
Subscribe to Posts [Atom]